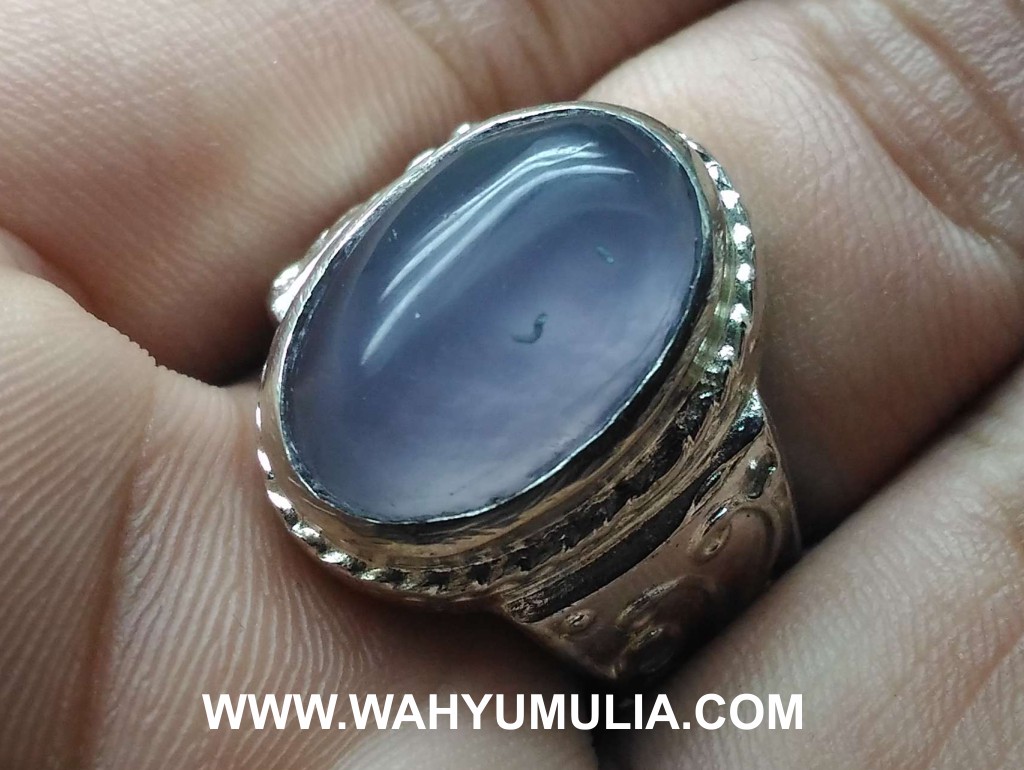 Kisah tentang keajaiban dengan perantara benda
mati amat banyak kita temui dalam Kitab-Kitab Suci. Semisal kisah Rasulullah
SAW, ketika beliau mendengar ada seseorang yang disiksa dalam kuburnya, maka
beliau mengambil pelepah Kurma yang masih basah kemudian menancapkannya pada
kubur itu sambil bersabda " Selagi pelepah Kurma masih basah, mudah-mudahan
Tuhan meringankan siksa si fulan ". Cerita Tongkat Nabi Musa As, yang dapat
membelah lautan menjadi jalan dengan perantaraan sebuah tongkat ( sebuah kayu ).
Juga memberi kekuasaan kepada Nabi Sulaiman As, dapat menundukkan segala bangsa
jin melalui sebuah benda mati bernama Cincin Nabi Sulaiman As. Atau Sewaktu Nabi
Yusuf As, mengirimkan bajunya dengan pesan agar diusapkan pada wajah Nabi Yakub
As, sehingga dengan perantaraan baju itu meyebabkan buta yang diderita
ayahandanya sembuh dengan izin Tuhan, dan sebagainya.
Gambar batu akik
anggur bulan (sumber : google.co.id)
Berbentuk bulat setengah telur pada
bagian atasnya berbentuk kubah, Berukuran : panjang 10,3 mm, lebar 10 mm, tinggi
4 mm, mengandung unsur kimia beryllum alumunium Oxida dan memiliki kekerasan
sekitar 6,5-7 skala mohs. warnanya putih keruh tidak terang dan agak butek,
semu-semu biru dengan satu sinar terang lurus ditengah-tengahnya yang dapat
bergerak kekanan dan kekiri. Media yang diambil melalui proses alam dan memiliki
kekuatan secara alami.
Batu ini berkaitan dengan energi dibagian kepala
cakra tertinggi ketujuh. dan warna batu tersebut menghasilkan getaran yang
positif untuk membantu menciptakan harmoni, kesembuhan dan menjaga kesehatan
tubuh. menenangkan fikiran, dan dihormati banyak orang, meningkatkan kepekaan
batin, melancarkan usaha dan menarik datangnya rezeki, membawa keberuntungan
serta memberikan kebahagiaan dalam hal materi atau harta benda, terhindar dari
segala pengaruh-pengaruh jahat serta membentengi diri dari segala kejahatan
orang, disenangi dan dikasihi semua orang, memberi tanda akan ancaman bahaya
sinar terang dari batu tak bergerak seperti biasanya, dan lain sebagainya.. Cara
pemakaiannya : Dibuat cincin, liontin atau dibawa dalam berpergian. ( Di
Maharkan Rp. 250.000,- )
Maka di carilah sesuatu dengan mempercayai
sesuatu yang kiranya dapat menenagkan hati dan jiwanya, dan jika seseorang itu
menemui keberhasilan, kebahagiaan, ketentraman dll, dari apa yang di percayainya
itu, Kita tidak dapat menyalahkan kepercayaan itu, karena tiap-tiap manusia
boleh mencari jalan keselamatan dirinya sendiri dengan cara yang mereka anggap
baik, dan sesungguhnya segala sesuatu yang di ciptakan Tuhan pasti ada
manfaatnya. Adapun khasiat adalah sebagian dari manfaat, di dalam pemahaman Ilmu
hikmah, pada Hakekatnya benda yang memiliki kekuatan itu hanya sebagai sebab
belaka, atau perantara yang di titipkan kekuatan pada suatu media ( benda mati )
sedangkan arti kekuatan itu berasal dari Tuhan semata-mata.
Buktinya
kendati pun kita hidup di zaman serba canggih sekarang ini di mana device
teknologi serba canggih dan spektakuler yang mencakup di segala bidang seperti
dalam bidang pertanian, bidang kedokteran, bidang penerbangan dan sebagainya,
namun keberadaan kekuatan-kekuatan yang bersifat magis tetap saja masih sulit di
lupakan. Adapun keberhasilan dengan suatu media, perantara atau dengan sarana
benda bertuah sudah barang tentu tidak akan mendahului kehendak Tuhan atau
menduakan Tuhan. Namun untuk memberikan kita sebagai motivasi agar tetap
berusaha dengan sebaik-baiknya.
Batu Permata bila ditelaah secara ilmiah
maka tidak berbeda dengan barang tambang lainnya yang memiliki aneka warna yang
mempersona manusia, sehingga manusia menyebutnya dengan sebutan Batu Mulia
Kekuatan energi batu berensonansi dan menyerap terhadap getaran kekuatan energi
chi yang berada dialam raya ini, batu permata memiliki energi air of secrecy
yang tidak terlihat dan manusia juga memiliki air of secrecy, jadi air of
secrecy energi dari batu akan mudah masuk kedalam air of secrecy manusia,
sehingga menjadi lebih mudah tercapainya dalam kondisi apapun bagi
pemakainya.
Benda Betuah Indonesia. Bukan nama namun hanya sekedar
istilah untuk memberikan suatu gambaran bahwa kekuatan suranatural itu
sebenarnya memang ada dan bisa memberikan suatu alternatif yang maksimal untuk
banyak kasus yang menyangkut masalah dasar manusia, seperti : rezeki seret,
Bisnis macet, penyakit tak kunjung sembuh, strain berkepanjangan, lambat
perjodohan, kesialan dalam hidup, dan sebagainya. Benda bertuah yang di
pancarkan oleh kekuatan ghaib di dalamnya demi untuk kepentingan pribadi maupun
kepentingan orang banyak, memang cukup mumpuni selagi kita memahami dan
mengerti, serta menggunakannya dengan benar.
Benda bertuah adalah suatu
benda yang di gemari dan di cari orang bukan saja untuk perhiasan, melainkan
juga di percayai akan adanya kekuatan yang tersembunyi di dalamnya, dengan
adanya anggapan hal kekuatan-kekuatan yang tertentu itu, maka timbullah suatu
kepercayaan yang turun menurun sampai dewasa ini. Umumnya oleh orang up up to
now di anggap tahayul, ( percaya kepada benda mati ) tetapi janganlah lupa …?.
Bahwa tiap-tiap manusia betapapun ia up up to now, sesungghnya tidak akan
terlepas dari kepercayaan kepada hal-hal yang gaib, walaupun ia tak mau
mengakui. Pokok pangkal dari segala kepercayaan dengan apa yang di namakan
sebagai tahayul itu terletak pada perasaan tidak kekalnya segala apa yang tampak
di dunia.
Sebab dengan berusaha maka pertolongan Tuhan akan selalu
datang. Benda-benda bertuah yang kini hadir, setelah sekian lama telah menjadi
rahasia di kalangan para Spiritual dan Supranatural. Atas ijin Tuhan Blog Benda
Bertuah Indonesia ini dapat kami buat, dengan maksud untuk membantu masyarakat
dalam mengatasi berbagai kendala dalam kehidupan. Semoga benda bertuah yang
bernuansa magis ini dapat bermanfaat bagi masyarakat dan harapan kami dapat di
praktekan sendiri sesuai masalah yang di hadapi. Sebagai manusia biasa, atas
segala kekurangan dan kekeliruan dalam Blog ini, dengan penuh kerendahan hati
mengharap segala tegur sapa dan kritik sehat dari semua pengunjung Blog ini. Dan
kami ucapkan banyak terima kasih.
BATU ANGGUR BULAN
Benda bertuah
sejak ribuan tahun silam telah menjadi sumber daya tarik bagi manusia. Benda
bertuah dengan segala keunikkannya telah memukau semua orang dari yang
berkedudukkan tinggi seperti maharaja, ratu, bangsawan hingga manusia biasa.
Blog ini akan menjelajahi beberapa benda bertuah yang terkait dengan kekuatan
gaib di dalamnya atau yang memiliki ( Faktor X ), keunikkan, kelangkaan, khasiat
serta manfaatnya. Sebenarnya tidak semua benda bertuah yang yang memiliki Faktor
X harus berharga mahal, banyak yang memiliki Faktor X tetapi karena berbeda
species menjadikannya tidak terlalu mahal.
Itulah Asaul-usil benda
tentang batu akik anggur bulan yang benar-benar asli yang perlu anda ketahui
agar tidak menyimpang dari agama dan hanya di jadikan sebagai atau di jadikan
sebagai bisnis jual beli batu akik.